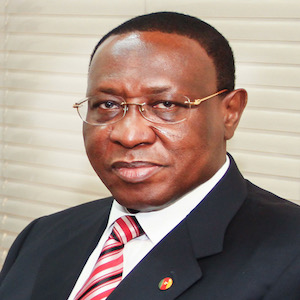 Former Minister Deputy Secretary General at the Presidency of the Republic and former Minister in charge of State Control and Administrative Reforms, H.E. DR. MOHAMADOU LABARANG earned his degrees from:
University of Yaoundé, Cameroon (B.A.),
University of Maryland, USA (B.Sc.),
National School of Administration and Magistracy, Yaoundé, (Diploma in General Administration),
University of Paris X, Nanterre, France (PhD, Political Philosophy).
He served as Ambassador to Saudi Arabia, Kuwait, UAE, Bahrain, Qatar, Oman, Lebanon, Iran, etc. for 17 years before his appointment as Ambassador in Cairo. He was also Permanent Representative of Cameroon to the Organisation of Islamic Conference (OIC) and Alternate Governor for Cameroon to the Islamic Development Bank (IDB), as well as Executive Director for IDB for 3 years. Since February 2008, he is Ambassador in Egypt and also accredited to Jordan, Lebanon, Sudan and Syria as non-resident Ambassador.